Crafted by Local Artists
A distinguishing feature of Peloton Apartments, as well as our sister residential communities, is our focus on elevating spaces with art. We work with local artists to create and install gallery-worthy works throughout our properties for all to enjoy.
Drawing inspiration from the feeling of traveling through the city on foot, on bike or by car, artists were invited to create site-specific installations that elicited a sense of movement, rhythm, or growth. The invited artists reacted uniquely and individually to the site and created pieces that reflect a sense of momentum. Learn more about the works and the artists that adorn and elevate our spaces.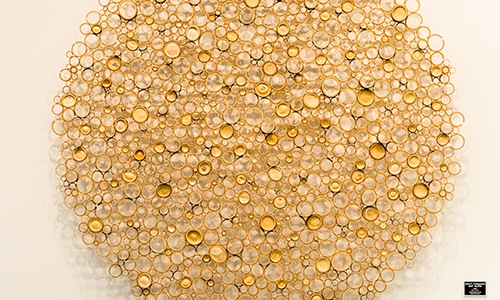 Ensō - Peloton
When one sees bicycle tires, one thinks circles. Within Zen design, the circle or Ensō represents enlightenment as it is both bounded and boundless. Its edges are organic and irregular in form, symbolizing the imperfection that is part of existence. Circles also communicate the "collective unconscious" and complexity of the unknown as well as the heavenly universe. 90" in diameter x 7 1/2" in depth. Crosscut Bamboo and Irish Waxed Linen Thread.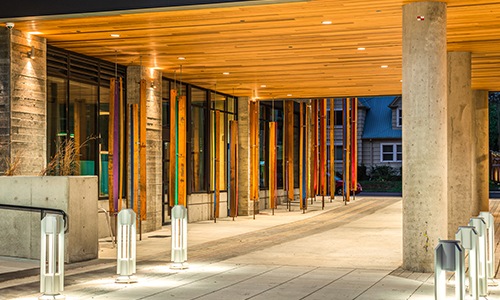 Color Cane
Color Cane is a 'platoon' of 22 graceful columns. Composed of thin metal blades, each column spins freely around its colorful LED lit hub. Collectively, they express the free spirit and vitality of Peloton's residents and the Portland bicycle community. 20' H × 70' L × 8' W. Steel with reflective paint and LED lights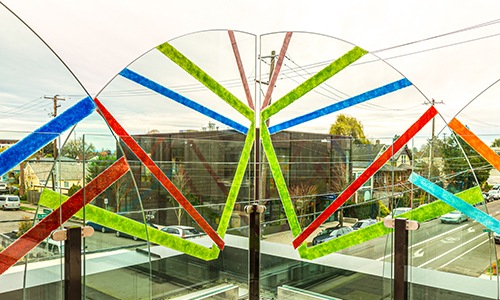 Commuters
The primary intent of Commuters is to create a visually arresting piece that works in harmony with the Peloton ethos. The alternating glass wheels and their vibrant spokes create a strong sense of momentum and rhythm, while the diversity in wheel size embodies the variety of commuter traffic along North Williams. The wheels overlap to exemplify the interdependency of each rider within the group. Each wheel's spoke alignment subtly intersects with its neighbor, creating geometric patterns that serve to symbolize the interconnectedness and vibrancy of the Peloton community and the North Williams community at large. 108' x 6'. Tempered Glass, cathedral art glass, silicone.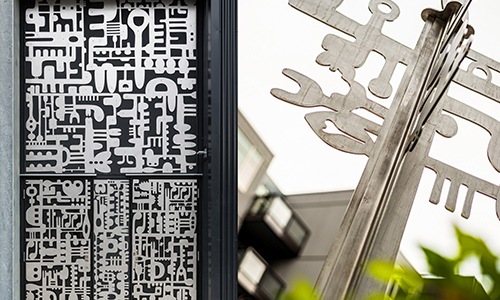 VeloMap (commute), VeloMap (wanderlust), & Wayfaring Signposts
The three pieces that artist Hilary Pfeifer designed for Peloton all allude to mapping. VeloMap (commute) and VeloMap (wanderlust) are attached to the west side of the inner woonerf wall, and are abstract interpretations of all the possible ways one could take to get from one point to another. The three Wayfaring Signposts located in the planting beds are an homage to the classic wooden wayfaring signs pointing to destinations near and far, and utilize the same visual language as the VeloMaps. The design elements for all the screens and sculptures were initially created by hand with paper and scissors before being translated to computer for the final composition.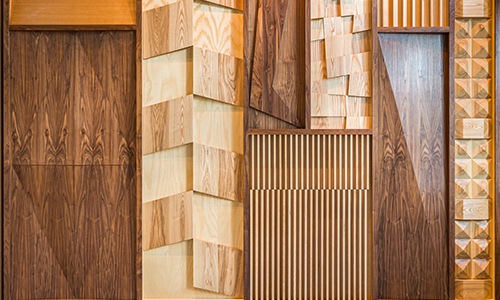 Brilliant Corners
The Williams Lobby Sculpture is designed to be engaging and to elicit a sense of discovery. Patterns will fade and emerge depending on viewer orientation and the play of light on the wood. The variety of shapes and structures that materialize will create a unique and ever-evolving experience that rewards engagement. The artwork aims to mirror a community who thrives through cooperation and support by utilizing peloton related shapes and strong geometric forms. Ideally, the piece will be a catalyst for conversation, reflection and thought. 16'6″ tall x 14′ wide. Ash, Hemlock, White Oak, Walnut, Fir.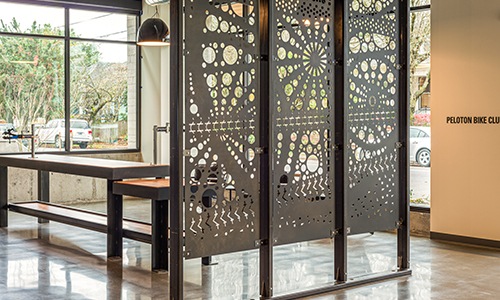 Pathways
Viewed from a distance, the composition uses a low close-up perspective, as if looking through the layers of commuting cyclists. Three or four larger wheels spanning several panels are subtly defined by a delicate pattern of varying diameter circles interspersed with a few sprockets. This varied perforation adds a sense of energetic movement and creates a larger design spanning an entire hallway length. Linear diagonals referencing different bicycle treads accentuate the perspective of the interior hall angles. The tire tread lines provide a visual foreground for the more subtle wheels, but also add a layer that represents a bird's eye view of individual paths merging together or diverging, depending on the angle of approach. 8' x 30'.